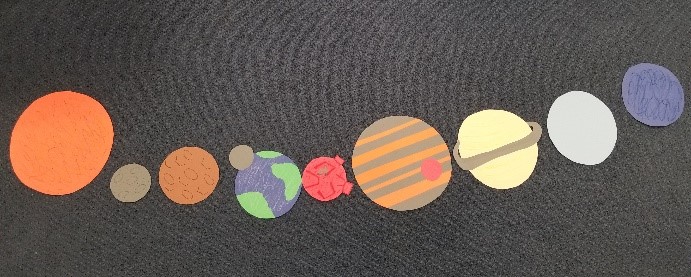 3-2-1 Blastoff!
Space is such an exciting topic where a lot of information, language, and vocabulary is used. I am here to give you a description of my session to save you some brainpower when planning! My space lesson covered space vocabulary, adjectives, prepositions, and WH questions.
I started off the session with a Youtube song called, "The Solar System Song" by KidsTV123. This was an excellent song for the kids because it was sung at a slow rate, which allowed them follow along easier and included a lot of descriptions and visuals. The solar system was taught throughout the week prior to my lesson, so this song was a good way to carry over learned material. After we watched the video, I had visuals that I created of all the planets. I wrote little factoids and WH questions on the back of the planets to serve as a guide for me because I am no Buzz Aldrin with planet information!
Following each planet's list of facts, I posed some questions. Some of these questions included, "Is it safe to live on Jupiter, Why/why not?" "Who lives on planet earth?" "Why is there a rover on Mars?" etc. This got conversation flowing and the kids really involved. After reviewing the planets, we discussed astronauts and scientists, and their role in space. I had a big grocery store sized paper bag, which I covered in tin foil and used as a space helmet. Being an SLP is the only time when wearing a paper bag on your head is encouraged! Anyway, I put the "helmet" on and explained that we have a special mission to go on and that it is our job to discover a new planet.
I had various materials (cotton balls, tin foil, beads etc.) and a visual description chart. We used the visual description chart to discuss various attributes that we "discovered" on our planet and the different materials to depict these attributes. Be creative! We used the beads to describe a bumpy and rocky surface, cotton balls for white and snowy areas, and even a green and fuzzy pipe cleaner snake alien! We glued our materials onto the paper and used prepositions to explain the placement of our findings ("I found a lot of bumpy rocks under the white snow").  Once the planet was created, we selected a place along the solar system using preposition "next to." Our planet, was next to Neptune because it is cold and had to be far from the sun! We covered WH questions ("Who lives there?" "What can you do there?" etc.) about the planet to give all our scientist-astronauts a chance to wear the beloved helmet. Overall, it was a fun activity!  It is always wonderful when activities can be fun, but educational! I included some vocabulary below as well as any visuals that were used! I hope you try this out and have as much fun as I did!
Key Vocabulary
Solar System
Planets/ Planet names
Crater
Telescope
Astronaut
Scientist
Mission
Helmet
Discover/ Discovery
Texture
Author: Courtney Marden MS, CCC-SLP