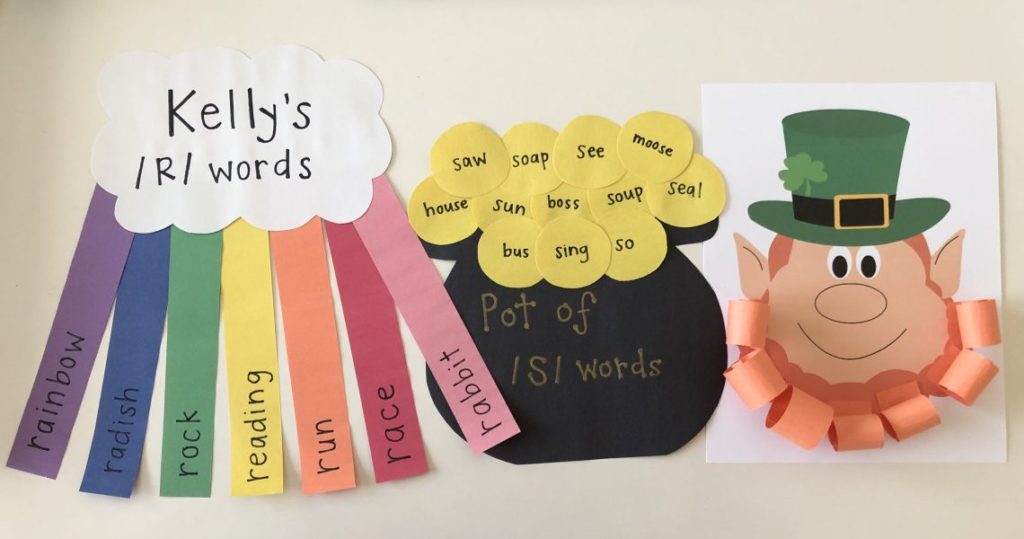 St. Patrick's Day Classroom Activities
This time of year always seems to be especially busy!  Our calendars are filled with IEP meetings, stacks of evaluations to finish, and state-wide standardized testing is looming over us.  So, when I sit down to plan St. Patrick's Day activities for therapy this time of year, I want to make sure that it hits three criteria: 1. easy prep, 2. low cost, and 3. engaging for students!  Below are some therapy ideas for St. Patrick's Day activities that check all three boxes.
Read A Thematic Book
Is a holiday really a holiday if you don't celebrate with the Old Lady? There Was an Old Lady Who Swallowed a Clover is an engaging book that is great for targeting vocabulary, sequencing, retelling, comprehension – you name it!  It is appropriate for most elementary school-aged children.  Some other holiday favorites are Fiona's Luck, Jamie O'Rourke and the Big Potato, and It's St. Patrick's Day.
Have Some Fun With Slime
Look up some easy slime recipes on Pinterest and make it festive by using green glitter glue or by adding shamrock confetti.  It's perfect for targeting skills like describing/attributes, sequencing, and recalling details.
Make A Sensory Box
I like to use pom-poms, as I find it is usually less of a mess to clean up, but some people like using water beads or paper crinkle.  Then fill a box with items based on a theme, like St. Patrick's Day vocabulary (leprechaun, shamrock, pot, rainbow, coins) or Things That Are Green (leaf, frog, lime, etc.) – the possibilities are endless!
Add A Manipulative
Take your usual worksheet and add an extra element, like covering words that the students have practiced with a festive green paint dotter or by placing a gold coin on top.
Get Crafty
Below are three crafts that require minimal materials, minimal prep time, and minimal "know-how"
1. Rainbow Words – Cut a cloud shape out of white construction paper and rectangular strips of different color paper.  Tape/glue the colored strips to the bottom of the cloud so that it looks like colorful rainbow beams.
2. Pot of Gold – Cut a leprechaun pot out of black construction paper and small circles (about 10) out of yellow construction paper.  Tape/glue the yellow coins around the top of the pot.
3. Leprechaun Face – Print out a leprechaun face (I just use Google Images).  Then cut out rectangular strips of orange construction paper.  Roll one orange strip around a pencil to make the paper curl, then tape/glue the end of the curled paper to the leprechaun's beard – this will look like his beard hair!  Continue until his beard is full.
Just add the target skill (articulation words/phrases/sentences, verbs, prepositions, conversation topics, etc.) and practice! There are lots of easy ways to integrate thematic activities that are easy prep, low cost, and engaging for students.  So get creative and have some fun!
Author: Kelly Leis, M.Ed., CCC-SLP