Below you will find our Job Search hints & resources to help you on your way!  Visit often, as each week a new resource will be added!
Week 4
Top 6 Ways to Use Social Media to Advance Your CF Job Search
Build a professional network to actively conduct your job search.

Six Ways to Actively use Social Media in Your CF Job Search 
Build a professional network to actively conduct your job search!
The world of social media is used for everything! Here are six ways you can actively use social media to advance your job search using the sites you already use. Last week we talked about the steps to take to make sure that potential employers who are checking you out receive a positive image of you. This week we want to go over some of the ways you can actively conduct a job search using social media.
The five sites we suggest a CF-SLP should focus on are ASHA, State Associations, LinkedIn, Facebook and Glassdoor, but there are many more. All of the activities presented here are free and just take a few minutes a day once your profile is complete.
Building a professional network is a habit you will want to develop to access professional information, build a resource bank, find out about and be introduced to companies with vacancies that interest you and to gain support and encouragement. Some activities can feel awkward at first so we've started you out with a simple example for each type of activity.
1. Promote Yourself
There are many opportunities on social media sites where you can let people know you are in the job market. A simple announcement with either a sentence about your job search or a link to one of your appropriate profiles lets you state what you are looking for and where.
Hi Fellow Facebook Group Members,
I am graduating from (Name Your University) in May and am looking for a CF position in an elementary school commutable from Baltimore, MD. Here is a bit more about me (Link). Any suggestions, or feedback is appreciated!
2. Connect with Others to Build a Professional Network
Sometimes connecting with others is as natural as your smile and sometimes it can feel uncomfortable or awkward. The importance of making professional connections at every stage of your career is so valuable. Some universities are now also actively encouraging students to build their professional network using LinkedIn, ASHA or their state associations. All are good options that will enhance your career. Start by connecting to your university professors and clinical instructors who are active on social media.
Dear (Clinical Instructor),
I would like to add you to my professional network and hope that we can stay in touch after graduation. I learned so much at the clinic and know that I want to continue working with children. Thank you so much for being one of my references. I am looking forward to beginning my career using the training and experience you've given me and hope that you will help provide the foundation of my professional network as well.
3. Scope Out Potential Employers
Before you make contact with a potential employer you may want to check them out! Most companies have a website, Facebook page, Glassdoor profile, company LinkedIn page, Pinterest, Twitter and more. This is all public information you can use to see how their jobs match with your wish list, which positions you want to apply for at this company and if there are any concerns you want to check out further. Connecting with or Following them is usually as easy as a click request but if you need to make contact don't be afraid to do so! Most companies will respond to your inquiry or comment. Sadly, some companies do not respond but that, too, is useful information to know about a company you are considering.
Good Afternoon (Best Contact Name),
I saw your recap for the ASHA convention on your LinkedIn page and wish I could have been there this year to meet with you. I am graduating from (Name Your University) in May and am looking for a CF position in the Orlando, Florida area as I will be relocating there this summer. Here is a bit more about me (Link). Can you let me know to whom I should direct my resume in order to be considered for a CF position with you in that area?
4. Use Groups and Organizations to Build a Specialty Network
Most social media sites offer forums for specific clinical interests, and for those who are looking for a specialty area of practice these more focused entities are essential places to connect with those who may know about these types of position first!
Hello AAC SLPs!
Thank you for including me in your group. I wanted to introduce myself and tell you a little about my AAC interest. I am graduating from (Name Your University) in May and had wonderful training and experiences with children K-6 using several different AAC Apps and devices. I am looking for a CF position in California working in a school position that includes children using AAC devices on the caseload. Any information or suggestions is appreciated! I know this is my skill set and can't wait to find my California CF job.
5. Request Assistance or Introductions
At the heart of social media is the desire to communicate and connect with others who share a common interest or profession. In general, people who participate in online communities like to help people when it's within our ability to do so. Most savvy participants know that their contributions and assistance to the other members of the group will be repaid to them when they need help, too! Don't be afraid to ask, but also don't be offended if someone fails to connect or respond. Your network reflects you and just keep reaching out and building! Soon people will be asking YOU for help!
Good Morning (Name),
I am contacting you because I saw that you also graduated from (Name Your University) and work at (Target Company). I am graduating from (Name Your University) in May and am looking for a CF position in an elementary school commutable from Philadelphia. I know this area can be a difficult area to find a full time job. Here is a bit more about me (Link). I am hoping you can give me some insight into the interview process there and make suggestions regarding how to increase my chances of obtaining an interview. I welcome the opportunity to add you to my professional network and if you think I would be a good fit with (Target Company), can you let me know if there is a specific person to whom I should direct my resume?
6. Respond to Active Job Posts
Hot jobs are often promoted by companies through their many social media sites. Even if the job is not exactly what you are looking for, applying for one of the promoted jobs might get you to the top of the interview pile sooner. During the interview process you may decide to actively pursue the promoted job (often for a higher salary or special perk), find out about other positions in the company that are more suitable for you, and/or hone your interview skills so that when the perfect job comes along you are more prepared to impress!
Dear (Hiring Manager Name)
I am interested in hearing more about the position posted on your company website. I am graduating from (Name Your University) in May and am looking for a CF position in an elementary school. I'm exploring all options, and my top priority is to ensure a solid experience for my CF. My resume is attached and I look forward to hearing from you soon to discuss this opportunity.
Take away tip – Most social media sites allow you to identify yourself as a member and allows others who share in the same membership to view/communicate with each other. Even if you do not know a specific person you might be interviewing or working with in the future, your shared social media network can establish common ground.
Week 3 
Top 7 Tips to Use Social Media in Your Job Search
Use one of the most powerful communication tools you have to connect with future employers.
Top 7 Tips to Use Social Media in Your Job Search 

Make Social Media Accounts a Positive Influence!
Life is full of social media tools we use as a primary way of communicating with family, friends and classmates. Who can be surprised that it is also a primary way of communicating with employers?
This ability to communicate with your future employer is an incredible opportunity to share who you are and what makes you happy. Use your online tools to create a positive well-rounded image! Show your professional curiosity, personal style, personality, interests, leadership, teamwork and volunteer activities to your best advantage.
Here are our top 7 tips for your social media makeover to avoid common problems that might diminish your standing in the applicant pool.
Make your online identity meet your future employer's expectations.
In some ways, your job search is not about you. It is about what your future employer is looking for when they hire and how well you can meet those needs. Your resume emphasizes how your education, experience, work ethic and interpersonal skills can meet the required job functions. When job hunting, your digital footprint is one tool you can use to communicate the same message. Think about the skills, qualities and interests that your 'dream job' employer might be looking for when they hire new staff and add to or edit your social media content with that in mind.Recent hiring manager surveys indicate that between 60% and - 93% of them check out a candidate's social media and online information prior to making a job offer. All of the statistics presented here are sourced from recently published employment surveys, including CareerBuilder 2016 and Jobvite 2014 Social Media/Hiring Manager studies.
Commit to fixing any unprofessional online image as much as possible.
Although it might seem easier to just make all of your settings private and not take the time to groom this aspect of your life for your new professional career, this might not be the best option. Since the majority of employers are checking you out online, they might overlook it, but you have missed an opportunity to impress.According to the CareerBuilder survey, the majority of hiring managers want to see a candidate's professional presence online. While most are not looking for negative information, the absence of any information might be a red flag that you have something to hide.More than 40% of the hiring managers said that if they are unable to find any information about an applicant online they will be less likely to consider them for a position.
Ask Google.
Seriously, do a Google search on yourself to see what a potential employer will find when they search for you. On the positive side, you might be happy to see that science fair article from high school, your classes' volunteer day activities from the alumni magazine and your ASHA Poster Presentation. On the other hand you may be surprised to see your online rant that got picked up by the local newspaper or your small claims court spat with a former landlord.We advise deleting or adjusting any online items you have control over, working with others who have power over correcting or agreeing to delete any misinformation that you find, and considering other more drastic options sparingly. Remember, something like an arrest can be omitted but criminal convictions on your record will probably need to be disclosed to the licensing board and an employer at some point.
Complete relevant or positive information in your online account profile
Whether it's Facebook, LinkedIn, Instagram, Pinterest, Google+, YouTube, Snap Chat, Glassdoor, or the myriad of other job search boards you utilize, make a conscious decision to add the details that enhance your image and help your job search. If it comes up in a Google search about you, take the time to make it as strong as you can and be consistent with your other online information. Remember to include your professional key words when appropriate, so employers looking for what you have to offer can find you, but don't forget the impact of a profile photo, too!Studies show a smiling picture engages more people than a non-smiling one but any picture has a stronger positive impact than no picture. The exception to this is resumes, where employers are less likely to select the candidate with a photo on their resume over a candidate whose resume does not include a photo.
Present a balanced, well-rounded picture of who you are and what you are capable of doing.
Adding a well thought out and articulated response to a recent course, clinical experience or other professional event over the next few months will add professional depth to your usually lighthearted Facebook greetings. Include pictures of professors and classmates in your photos. Link, follow or include groups you participate in, organizations with information you find valuable and professionals you admire, especially those that share resources or professional information.Next week we will explore how to actively use your social media sites to actively support your job search process in detail!
Consider Omitting the Controversial Issues.
Everyone has a right to be politically active and share their personal beliefs and perhaps your political involvement is something that you want any future employer to know about you in advance. But be cautious and avoid negativity.Topics to avoid sharing on social media include negative comments about professors or classmates or former employers and co-workers, engaging in cyber bullying or trolling, personal sexual activity, illegal drug use and discriminatory comments.
Proofread and correct your Facebook posts and other online comments.
Poor communication skills is listed as a pet peeve by 66% of hiring managers. I can only assume this number is even higher in professions that rely on good written communication as a large component of the position.Proofreading your own writing is hard! Offer to help someone else with theirs if they help you with yours.
Take away tip – Here are the cover photo sizes for some common social media sites.
Facebook: 851 px wide x 315 px tall
Twitter: 1,500 px wide by 500 px tall
LinkedIn: 646 px wide x 220 px tall
Google+: 2,120 px wide x 1,192 px tall
YouTube: 2,560 px wide x 1,440 px tall | Desktop Banner: 2,560 px wide x 473 px tall
Week 2
Help! I Need a Backup Plan!
Things to consider adjusting when the job search just isn't going according to plan – Location, Clinical Setting and Compensation.
Help! I Need a Backup Plan

Things to consider adjusting when the job search just isn't going according to plan.
You've set your goals and established your priorities but the perfect job isn't forthcoming. None of your friends know of companies hiring and no suitable jobs are listed on internet job sites. Your phone is ringing off the hook and your email box is full of messages from recruiters with jobs you don't want in locations you don't want. Now what?
Now it's time for you to make a backup plan. It's a logical way to wade through the overwhelming task of sorting through a ton of 'not what you really want' job options. Let's talk strategy. Here is where your head finds a way to balance out what your heart wanted when you established your dream job priorities. The truth is, although you are in a field where there is a huge demand, there are geographic areas and some types of clinical settings where there are few CF options and competition is fierce for any full-time job that becomes available. So here is some inside information to help you beat the odds, accomplish your goals (eventually) and find a CF position that meets your needs, even if it doesn't meet everything you wanted in your first job. In some locations, in some clinical settings, at some compensation levels, there are very few jobs. Knowing it's not you, it's the job market, helps you both stay calm and focus your plans on where you will have the best chance for success
1. Location
Location can be a huge stumbling block for your job search plans. If you are geographically specific in a tight job market you may need to consider ALL options. Here are some details to keep in mind when assessing if the location will need to be the priority that you adjust.
A nearby SLP University Program will have a huge impact on your clinical options and compensation. If there is a University Program in your target area, draw a 40-mile radius circle around of the school. Draw a 50-mile radius around a school that is in a more sparsely populated area. Inside the circle will be the most saturated job market. In some areas, there are two, three, five and even seven SLP programs with overlapping 40-50 mile radius circles. You will have more job options outside of these circled areas.
Specialty clinical settings are usually based in areas with denser patient populations. The job market is stronger in these areas because, in addition to the most common SLP jobs available in Schools, Nursing Homes, and Home Health services that are in all geographic areas, the areas also draw people into the area to receive specialty services. There is less diversity of employers and job types in rural areas so you will almost always have a higher quantity of job options in the largest communities in your target area unless that is also where a University Program is located.
Exceptions: Specialty skills may be hard for employers to find even in a tight job market, Specialty certifications, Bilingual SLPs, specific AAC device experience are all important to include in your resume along with all diagnosis you worked with. On-line resume submittals are often screened by a keyword search applicant tracking system before a human eye considers the best matches. Your resume must include the detailed words plus the preferred words for the available position in order to make the cut.

2. Clinical setting
If you are looking for a specific clinical setting and not finding it in your target job market you may end up compromising between either a clinical setting or geographic location. If you settle for something that is a clinical compromise you will have a harder time building the skill set that makes you competitive for the job you really want. If you compromise on location, you will strengthen your skills in your preferred clinical setting but will spend a year or more outside of your targeted geographic area. It's a tough choice to make. Here are some details to keep in mind when assessing if the clinical setting of your CF job will need to be the priority that you adjust.
Over 50% of all SLP jobs are in the schools and the majority of CFs obtain their CCCs in a school setting. Schools are everywhere and they are also one of the few settings where obtaining a clinical mentor is not usually a problem. It is not difficult to transition to a medical position after working in the schools for a year because it is such a common occurrence.
State license and teacher certifications are different in every state! Some clinical settings have a harder time employing CF's because the CF license is a restricted or provisional license in their state. There will be a tighter CF job market in these areas. Compare both the state license and teaching certificate requirements to see if there is a difference in the state in which you plan to work. It's not about how easy or hard it is for you to get the license or certificate. It's about how easily the employers in some clinical settings can meet the requirements of a CF-SLP.
Niche specialty positions such as accent reduction or voice may be out of reach for a CF and require more than one strategic job step in order to eventually secure the dream position. Sometimes you can find positions that have a piece of the clinical component that you want. Often these types of positions can be found in school positions, but you can also find these type of positions in clinics, hospitals, and home health if you know how to look for them and negotiate that some of your caseloads will include these populations. Expect to dig deep and build your own professional resource network in these situations because there may not be a specialist available to help you with your work for your specialty caseload responsibilities.
Exceptions: Specialty skills such as Bilingual Spanish, sign language, AAC, ABA, etc. can also open the door for you to gain more experience in other specialty clinical areas of interest. Use your in-demand strengths to leverage yourself into more specific opportunities. Sometimes, just being willing to work in an undesirable location is a sufficient strength to get more of the job you want clinically or to negotiate a higher compensation rate.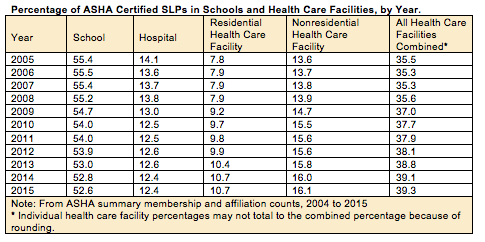 3. Compensation
Compensation varies between different geographic areas and clinical settings. It is sometimes hard to reconcile what you have set as your minimum acceptable wage and what is being offered, especially in some of the more desirable locations and clinical settings. Within clinical settings, the rate of pay is somewhat tied to the level of productivity that an employer can calculate.
For example, a Home Health job may pay per visit and the employer is only paying for productive work hours. A SNF job may come with a productivity expectation of 85% or more. A larger Private Practice might book your appointments back to back to back. These tend to be the higher paying positions. Hospitals, smaller private practices, pediatric clinics, and schools tend to have a less stringent billable hour accountability structure and also generally pay less. Contract companies and other for-profit companies tend to pay higher wages than government and not-for-profit employers. Look at the bigger employment picture as you assess your expected salary expectations.
Accurate salary information is hard to find and hard to compare because every employment structure has different tax and benefits implications. You can check salaries through a variety of places but they may not be very helpful. Using 'average salaries' for comparison means you are likely trying to compare your compensation offers to that of someone with 12-15 years of experience. Expect your CF offer to be lower than 'average' even if you can find something exactly for your specific geographic and clinical areas.
Your benefits can be up to 40% of your compensation. If a company isn't offering an employee status for tax savings and strong benefits, your compensation rate might be significantly less than you think! When employers pay for your benefit expenses and also pay a portion of your payroll taxes, you don't have to pay for them yourself. Only considering the payroll amount when comparing compensation is a costly mistake.
Watch out for the game changers to know when you are trying to compare apples to bananas in your job offers. Here is some basic information regarding the three biggest game changers.
Benefits add a lot to your bottom line over the course of the year so before you accept that hourly rate make sure you know what your benefits package will be. Benefits are usually tax-free plus they save you from having to pay for these items yourself out of your paycheck with after-tax dollars.
Independent Contractors receive no benefits (paid time off, health insurance, etc) are responsible for both the employee and employer payroll taxes and have additional tax reporting requirements. They are usually only paid for direct service hours and their paperwork and case management work is usually uncompensated. Find out more information about independent contractor status by speaking with an accountant (not a tax preparer) and reading up about the requirements on the IRS website here before considering a position as an independent contractor
Travel Status is a legally defined compensation structure under the IRS tax code. It allows you to claim certain expenses as a tax deduction and/or allows your employer to provide for certain expenses such as your housing on a tax-free basis. To qualify for Travel Status you must have and maintain a legal residence, accept a job that is not commutable from your legal residence and make a commitment to that job location for a period of less than one year. Find out more information about Travel Status by speaking with an accountant (not a tax preparer) and reading up about the requirements on the IRS website here and here before considering a position as a travel therapist.
Exceptions: Some rural and urban areas realize that they need to pay an incentive salary in order to attract someone to the area. These areas will be where there are no nearby programs offering your degree and/or have a perception of other undesirable qualities such as poverty, crime rate, climate, etc. These areas pay higher wages for a reason, but they can also offer you exception opportunities! Don't let what you've 'heard' keep you from checking them out. If you don't know where these higher paying jobs are located, ask a contract company. We work across multiple states and know the areas where there are few applicants and employers are begging for more staff. That's one of the reasons they use us!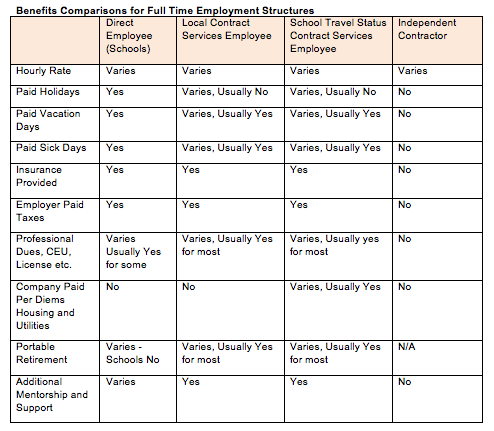 Take away tip: Sometimes you need to look at other aspects of the equation to make all the pieces balance. Consider these options and strategies to help maximize your available dollars.
Live with family or roommates
Stay on parents insurance
Consider PRN or part-time work
Apply for income-based loan repayment plans
Week 1 
Your Job Search Goals
Follow our easy steps to a stress-free job search! Set your priorities before you send out your resume to get the job you want.
Your Job Search Goals 
Decide your priorities - what jobs, where, and for how much compensation - before you send out your resume.
We're sharing this series of weekly job search activities to help you not just find a job, but to find the right job. You worked hard to get into your university program, worked hard to get through grad school and to pass your Praxis. You deserve to claim the rewards you earned with all of that work and effort. For the last few years your focus has been on getting in, getting through and getting out of grad school. Drilling down and absorbing everything SLP related. Now you have to learn how to network, interview, understand employment structures, employment contracts, insurance and benefits, tax deductions, license and certification requirements and more! And you thought you just needed a job!
Identifying your priorities in a job search is an essential first step. Unless you identify where you want your career to go you will be overwhelmed with activities that may not move you forward in a way that best meets your needs.
We want to help you identify your professional priorities and then navigate and understand the process employers use to select applicants so that you can confidently find the right job for you. Congratulations on all that you have achieved so far. You have chosen a great career and are among a select group of professionals who will have significant impact on individuals who receive your professional services while enjoying the security of stable employment with a wide spectrum of career options.
So let's cover the basics. There are three primary components to identify in an SLP job search; clinical setting, geographic location and compensation. Only you can determine the priority balance for these career components. And those priorities are set by two competing approaches to your career: your brain and your heart. Your brain may be saying one option is the best way to pay off your big pile of student loans but your heart is saying you really want to work with children, which is usually not the highest paying job. There are exceptions within the field that may make your competing goals come into balance and we'll cover that information in future steps. For now, try to assign a percentage value to each of the three areas, clinical setting, geographic location and compensation. In this exercise, the total should equal 100%.
Let's look at a couple of examples:
New CF-SLP A: She needs to be in a specific geographic area.
| | |
| --- | --- |
| Clinical Setting | 5% |
| Geographic Location | 85% |
| Compensation | 10% |
New CF-SLP B: He has a passion for working with children using AAC devices and would like to be near a major city.
| | |
| --- | --- |
| Clinical Setting | 60% |
| Geographic Location | 30% |
| Compensation | 10% |
One lesson you should take away from this activity is that if you are geographically specific you probably need to consider all clinical settings. And if you are clinically specific you need to consider a larger geographic job search area. There are only so many CF jobs available and you want to make sure you get the one that best meets your priorities. There is no right or wrong answers and of course it's really difficult to get exactly everything you want in a first job, but this little exercise will help you narrow your job search focus and efforts in specific areas that move you forward in accordance with your priorities.
Everyone is different. Your priorities and choices are your own. And your future employer should know, understand and be able to meet your needs. That means YOU need to know, understand and be able to articulate those needs in a professional job search process. Your objective here is to use your decisions regarding your career goal to set the foundation for your job search.
As you consider these elements and plan your job search, the choices you make will influence how you develop your resume, how you search for job vacancies and how you interview. Use this information to choose the best format for your resume, the words you include to describe your clinical experience and interests and who you share your resume with. Use your priorities as the criteria when accepting and declining interviews. Your priorities affect everything from who you select for your references to which job offers you consider. Our best advice is to not skip the basic step of setting a goal for your CF job.
So let's get started! We can't wait to hear where your choices take you and look forward to sharing the next step with you next week.
To your success!
Take away Tip - When applying for jobs that are not commutable from your home, do not include your address in your resume. Employers often have a bias in favor of local candidates who might stay in the job longer and have fewer onboarding logistics to manage. Next week we'll go over developing a backup plan for those 'just in case' situations.